First of all, I've been contemplating this post for a while now, wondering whether or not I should share something SO personal on the internet, but as my followers numbers increase, I feel more and more inspired to share my struggles, and maybe to help others.
Grazia magazine have been introducing a #BreakTheTaboo campaign, trying to, change peoples views on mental illness, and in doing so have influenced me to finally voice my opinions, myself.
And another addition before I start, this is no way me wanting to get attention, piss anyone off, upset anyone etc. Some things I cannot share with you because it isn't safe to speak about on the internet, for myself and others.
Last year, around April time, as I was close to finishing college, our family suffered from a vicious attack to the front of our house, and living in a bungalow, with my bedroom at the front of the house, I was left terrified, and inundated with meetings with the police, statements being taken, and well-wishers asking how I was. Honestly, despite being a little startled, I thought I was fine, but I started to become a little nervous about going out, and the more I tried to ignore it, the more times I suffered with anxiety and panic attacks.
This wasn't the start of things however. I have been through my fair share of trauma in my life, and I'm not talking whiney, petty things, I'm talking life-changing, monumental stuff. I don't want anyone to begin to think I'm not a strong woman, because me suffering from anxiety is so far out of character, I don't think anyone close to me, or myself, even saw it coming.
It got to the point where in November, I was almost hospitalised for malnutrition and mental illness. Admittedly, I am one of the more severe cases, and many people won't get too this stage, but some do... I had spent pretty much every day feeling fatigued, not sleeping, eating, or even speaking to anyone. At this time, I was sleeping at my Nans because I couldn't face going home, and I'd go into her bedroom about three times every night crying hysterically about what had happened to me, and why it wouldn't just go away.
(Looking back on this NOW, I can't remember most of this. I remember small things, but I didn't sleep or eat, I came so close to wearing away, my body stopped wanting to work.)
I had been seeking help, with both my GP and Cognitive Behavioral Therapy at this point, but neither had seemed to help much, and I was in such a bottomless pit, it was as if I was so low I wasn't ever going to climb out. Around November time I got put on Citalopram, which was something I was very unhappy about. I dislike tablets, and if I have a headache, I soldier through it, so that was pretty difficult for me. First, I was given a 20mg dose, and this was NOT pretty, I thought I was going to throw up, I felt dizzy, shaky, paranoid and completely unable to sleep. I went in the day after and they lowered it to 10, which also, isn't very pretty for the first couple of weeks, I was left Googling the symptoms and terrified by this little tablet which was going to make me feel like death! Eventually after lots of pushing from my family, I took the tablet, and for about a week, felt uncontrollably sick after taking it, but this started to fade away, and managed to calm my nerves a little.
At the beginning of the year I started a higher level of CBT with someone else, which helped me get out more, and I even went to a gig in Liverpool in March, big change from my bed and practically being carried to the GP surgery, isn't it? And since, I've done so many things which I can hold my head up high, and be so proud of. I've gone back to my usual curvy self, and from losing weight to a size 8, I've gone back up to a healthy 12, and the compliments of my appearance have all returned.
So that's pretty much my experience, slimmed down as much as possible. Now, I'd like to share, a couple little things of meaning, for others, to help you cope, and a couple things that helped me.
Panic Attacks-
These are horrible things, and until you've had one, you can't understand how horrible they are, as they simply feel like you are dying. You feel faint, dizzy, your chest can get tight, your throat can constrict, and you feel as if you cannot breathe. The only way to cope through one of these, is to concentrate on your breathing, and all the symptoms make you panic more, as their name suggests, but you need to try your absolute best to cut that out. Concentrate on your breathing, and something else... Anything else. My Nan used to talk to me about what she was cooking for tea, what was happening on TV, and as trivial as it sounds, it's something which will take your mind of exactly what is going on inside your body. The same goes for anxiety attacks, but these don't feel as scary as panic attacks in my opinion, so I just dealt with them in the same manner.
Anxiety, Depression and Mental Illness in general-
First of all, remember..
YOU ARE NOT ALONE
. One in four people in the UK suffer from anxiety, and as much as your ashamed, there will be numerous other people walking past you in the street, thinking the same thing as you. And don't try to be alone, it's what I did, and definitely didn't help with improving my condition.
With these illnesses you do need to seek help, go and see your GP before things get as bad as they did for me. Tell your friends and family, they will help more than you realise. And Cognitive Behavioural Therapy is ideal for most people, they will just help you set little goals, and change the way your mind looks at things. An issue of mine was being an absolute Negative-Nelly, and Steve, my CBT advisor, told me numerous anecdotes which now help me whenever I feel anxious or nervous. There are lots of books on CBT available too, which help a lot, and are similar to what the advisors would tell you, so if you're too nervous to speak to someone, I bought
this, from Amazon,
which is very helpful and guides you through exercises to help improve your lifestyle. (The picture below describes depression perfectly, it's something that you cannot see, but it IS there, so it isn't something to be taken lightly, or ignored.)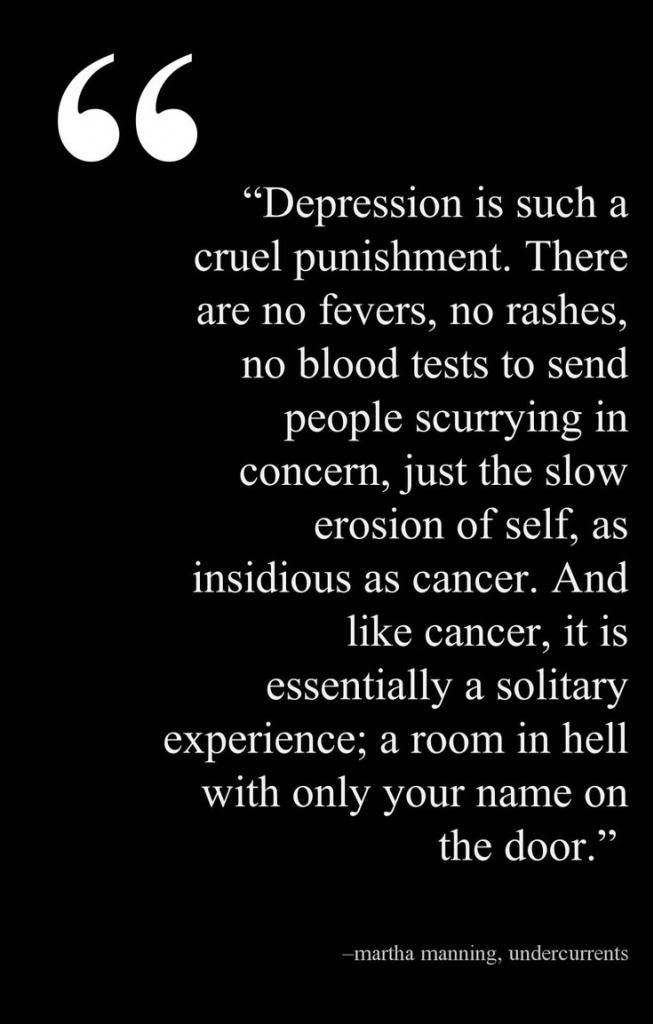 Don't forget that everyone needs positive energy too, so do the things that make you happy, read a book, listen to your favourite artist, watch the most fun film on your DVD rack (Despicable Me, cough...). And despite the fact that this wasn't something I could do because of my lack of eating, and fatigue all the time, exercise is a brilliant help for people with anxiety, because the chemical Serotonin is released whilst you exercise, and it's a known "feel-good" chemical, thus making you look good, and feel good!
You may feel like the whole world is going on around you, and that you're missing out on everything, which will only get you down more, so don't let it. Keep on going. You can do it, the exact same way that I did. Hard work, determination, and even more hard work.
I now want to just say, how brilliant my family and friends have been throughout my struggles, I didn't realise just how loved I was until this, to everyone that stayed up with me till silly o'clock, watching shit on the telly, and running to Tesco to buy me my favourite chocolate brownies. As much as the illness made me dislike them for no apparent reason, (I was so rude, I feel ashamed.) but looking back, I couldn't have done it without them. And to everyone who supported me, thank you.
I hope that this post has helped you understand a little more about anxiety and depression, or maybe helped other people's opinions on it. This has been quite hard for me to share and write, so I hope very much that this can help others.
Lots of love.